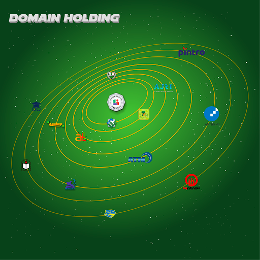 Ecosystem teknologi informasi yang ada pada Universitas Raharja terdiri dari 34 Domain Family yang saling terhubung satu sama lain membentuk gugusan alam semesta, kendati menghayati kekuatan galaxy, dimulai dari SEMNASTIK APTIKOM, ICOSTECH, iLearning Media, Raharja.me, Pribadi Dermawan, ZPreneur, Zorilia, raharjagroups.info, raharja.co, iLearning.co, raharja.info, Integram, IJIIS ASIA, IICRO, IAIC Bangun Bangsa (IBB), ARTIPENA, APTISI, ACADEMIC Publisher, IEEE Raharja Student Branch (IRSB) yang diharapkan mampu menciptakan sebuah Grand Design Orchestra, mengorbitkan bintang bintang creativepreneur serta mensukseskan Caturdarma Penelitian, pengabdian dan kebudayaan.
Alphabet Incubator (AI) adalah Centre of Excellence yang berperan sebagai enterprise yang memiliki ecosystem untuk sukses melahirkan startup corporate creativepreneur. Alphabet Incubator terintegrasi dengan BIGIndonesia yang telah menaungi banyak StartUp seperti Pintro, Ngampooz, AP3MI, MIKTI, Harmony Land dan Visio Incubator. AI juga bermitra strategis dengan ADI dalam rangka mensukseskan ADI Bangun Negeri (ABN) sebagai model economy asosiasi yang produk pertama nya adalah Adi Journal on Recent Innovation.
Suksesnya AI melahirkan Pandawan, yang merupakan layanan kemudahan dalam menciptakan serta mengelola semua kegiatan belajar mengajar, baik berupa pengelolaan Jurnal, meningkatkan kolaborasi, lokakarya pengembangan diri atau pendekatan terapan. Pandawan juga telah didukung oleh Kementrian Ristekdikti Republik Indonesia dengan memenangkan seleksi dan meraih pendanaan CPPBT.
Pandawan yang berperan dalam mendukung terciptanya Publisher Jurnal telah berhasil dengan 6 (enam) Jurnal Internasional, yaitu Aptisi Transaction on Technopreneurship (ATT), Aptisi Transaction on Management (ATM), ADI Journal on Recent Innovation (AJRI), IAIC Transactions on Sustainable Digital Innovation (ITSDI), International Journal of Cyber and IT Service Management (IJCITSM), B-Front (Blockchain Frontier Technology), dan 3 (tiga) Jurnal Nasional yaitu TMJ (Technomedia Journal), ADI Bisnis Digital Interdisiplin Jurnal (ABDI Jurnal), ADI Pengabdian Kepada Masyarakat Jurnal (ADIMAS Jurnal) merupakan jurnal ilmiah yang diterbitkan oleh APTISI (Asosiasi Perguruan Tinggi Swasta Indonesia), guna memfasilitasi hasil jurnal ilmiah Civitas Akademika dalam berbagai topik antara lain teknologi, sistem informasi, e-bisnis, bisnis internasional, ekonomi bisnis, etika dan keberlanjutan bisnis, dan kewirausahaan.
Kesuksesan yang diraih oleh Universitas Raharja sehingga menjadi unggul dan terpercaya merupakan berkat dari adanya mitra yang berkualitas, dimana saat ini terdapat 5 mitra institusi yang telah berjasa juga mendukung setiap perkembangan yang telah dilalui, yaitu Komite Olahraga Nasional Indonesia (KONI) Banten, UNBAJA, IPSI Banten, NEO LMS, dan iPandas.
Corporate Creativepreneur menjadikan daya tarik fantastis yang dimiliki oleh Alphabet Incubator untuk menjadikan industri atau pihak perusahaan yang berkualitas seperti PT. Srikaya Mitra Makmur, dan PT. Skyputra Panca Surya sebagai Mitra dari Universitas Raharja dan Alphabet Incubator.